NITAAC ramps up for more small business success
On January 20, 2021, President Joe Biden signed his first Executive Order (EO), EO 13985, which called for "a comprehensive approach to advancing equity for all, including people of color and others who have been historically underserved, marginalized, and adversely affected by persistent poverty and inequality." At NITAAC, we are committed to advancing equity across the Federal Government and strongly believe that by leveling the playing field for all socioeconomic groups, we create a federal contracting experience that benefits everyone.
That was the spirit behind our CIO-SP3 ramp on. In support of EO 13985, the CIO-SP3 ramp on increased the number of Service-Disabled Veteran Businesses (SDVB), 8(a) and Historically Underutilized Business Zones (HUBZone) small businesses to ensure equal access to contracting opportunities. The ramp on added over 200 Small Business Contract Holders to the vehicle, including 40 SDVB, 20 HUBZone and 81 8(a) contractors.
In fact, in FY22, of the top ten performing CIO-SP3 Small Business contract holders, seven were ramp on contractors. The top 10 contractors contributed to $1.7 billion of the dollars obligated. $1.2 billion of the obligated dollars came from ramp on contractors.
Image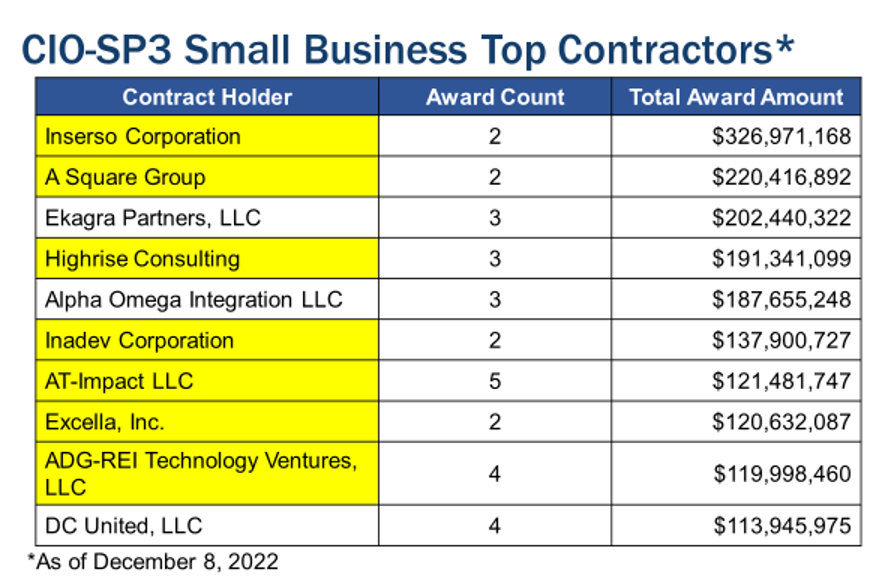 As a result of the CIO-SP3 Small Business ramp on, the percentage of NITAAC Small Disadvantaged Businesses increased by 75%, with over 70% of our awarded contracts being spread out over small business/socioeconomic categories.
8(a) – 131
Historically Underutilized Business Zone (HUBZone) - 22
Service-Disabled Veteran-Owned Small Business (SDVOSB) - 53
Small Business (SB) - 311
Women-Owned Small Business (WOSB) – 21
But our efforts have not stopped there.  In support of EO 13779, which was designed to strengthen the capacity of Historically Black Colleges and Universities (HBCU's) to participate in federal programs, access federal resources, including grants and procurement opportunities, as well as available partnership opportunities with federal agencies, the Chief Information Officer-Solutions and Partners 4 (CIO-SP4) Government-Wide Acquisition Contract (GWAC) solicitation allowed offerors to provide up to three examples of Information Technology projects that directly supported HBCU's. Each example was worth 100 points with a maximum total of 300 points possible.
The federal government's goal in advancing equity provides everyone with the opportunity to reach their full potential. We are proud of the strides we have made to promote equity in federal contracting and take the President's orders to remove systemic barriers to opportunities and benefits for people of color and other underserved groups, quite seriously.