GSS Detail and Menu
GSS Detail
The Federal Government spends over $50 billion a year on hardware, software, telecommunications, information technology (IT) security, and IT professional services through tens of thousands of contracts, task orders and delivery orders.
The Category Management Leadership Council (CMLC) has taken steps to improve the acquisition and management of common IT goods and services to drive greater performance, efficiencies and savings, starting with laptops and desktops — eventually encompassing other areas such as cloud services and cybersecurity.
NITAAC is pleased to serve as one of three Best in Class sources for purchasing laptops and desktops for federal agencies per memo M-16-02 issued on October 16, 2015. See the OMB Category Management policy memo and FAQs for more detailed information.
NITAAC is constantly exploring ways to help agencies eliminate redundancies, increase efficiencies and deliver more value and savings from our Government-Wide Acquisition Contracts (GWACs).
The NITAAC difference
NITAAC delivers quality IT equipment at competitive rates. In fact, federal agencies who use NITAAC realize dramatic savings when purchasing Commercial off the Shelf (COTS) IT products. Using NITAAC allows federal agencies to reduce the administrative cost of establishing their own IT contracts and leverage the buying power of civilian agencies for laptops and desktops. The more federal agencies participate, the greater the overall savings. Agencies get the same low price regardless of the quantities ordered. Through NITAAC Government-Wide Strategic Solutions, federal agencies can or will realize dramatic savings when purchasing COTS IT products.
GSS - Compete and Award Orders with Ease in e-GOS
Compete and award orders with ease in e-GOS
e-GOS is the Electronic Government Ordering System. e-GOS enables Contracting Officers to comply with fair opportunity in a streamlined manner. GSS supports the ordering of standard laptops and desktops in accordance with the Office of Management and Budget's Category Management Policy 15-1.
Image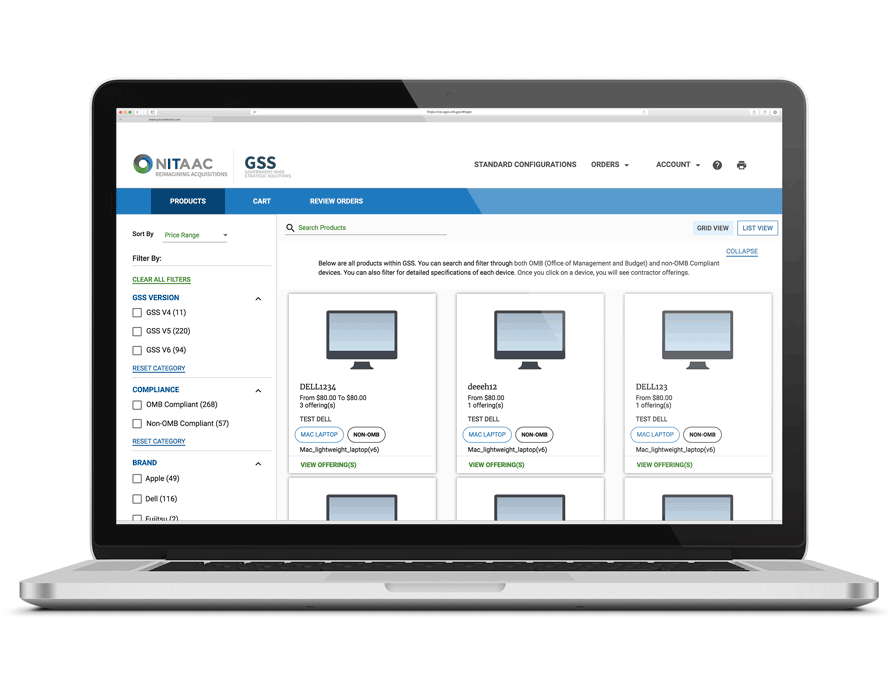 GSS - Configurations
Desktop and laptop configurations
NITAAC has established a catalog of desktop and laptop configurations that meet the OMB standard specifications. By logging into NITAAC's e-GOS, customers may review the offerings. All major brands are represented with a wide variety of available models. See the listing in the Tools & Templates page for minimum specifications.
Click below for links to the OMB Version 7, Version 6 and Version 5 specifications for laptops, desktops and tablets.
Here's how to order
NITAAC GSS makes COTS IT equipment procurement as easy as the click of a button. Placing an order is easy. To start your order, download a copy of the NITAAC GSS Ordering Guide, then click on the log in to e-GOS button in the upper right corner.
From e-GOS you can view standard configurations and prices on product offerings from our Contractor Holders. Simply compare the configurations, select the ones that meet your requirements and follow the NITAAC GSS Ordering Guide instructions to complete your order.
GSS - Contractors
Participating NITAAC CIO-CS contractors
The following CIO-CS contractors have been selected to participate in the GSS V7 initiative. If you have additional questions about Government-Wide Strategic Solutions, please see the OMB Q&A memo, or contact NITAAC Support.
GSS Related Resources and FAQs
Related resources
GSS FAQs
Frequently Asked Questions
Does the Non-Manufacturer Rule apply when purchasing from the GSS Catalog?
If a customer agency wants to set a requirement aside for small business under the GSS Desktop Laptop vehicle, will the agency have to request their own NMR waiver from the Small Business Administration or has a waiver already been obtained by NIH from SB
Training Sign Up
Sign up for your free personalized training
We offer free training, both at the NIH and at customer sites, to educate agencies about the value they can achieve by using CIO-SP3, CIO-SP3 Small Business or CIO-CS. Attendees earn 2 Continuous Learning Points (CLPs).
Image