Blue Announcement Bar
NITAAC has implemented Executive Order 14042
NITAAC can help...
NITAAC can help any federal agency buy information technology faster, more easily and more affordably
Whether you're buying direct or with help from Assisted Acquisitions, NITAAC Best in Class (BIC) Government-Wide Acquisition Contracts (GWACs) can support every federal information technology (IT) mission. 
Latest NAV
Latest news, articles and videos
Why NITAAC
Why NITAAC
Best in Class GWACs
Our Best in Class Government-Wide Acquisition Contracts give federal agencies a streamlined way to procure information technology commodities and services from industry leading providers.
Streamlined Procurements with built in FAR 16.5 Guidance
Our pre-competed contracts give Contracting Officers broad latitude to customize evaluation procedures based on the complexity of the procurement.
Reduce Administrative Time and Costs
With no need to synopsize requirements on SAM.gov (fka FedBizOpps) and the ability to manage the entire acquisition online, NITAAC lifts much of the reporting burden from customer agencies.
Dedicated Customer Service
NITAAC Support is staffed by people backed by a team of FAC-C (Level III) Digital Service certified Contracting Officers. We answer questions within the hour, turn around assessments within 12 business hours, convert Technical Refreshment Proposals within 24 hours and average 45-day Procurement Action Lead Times (PALTs).
Complimentary Scope of Work Assessments
Enhance the quality of responses your agency receives with a well-written Statement of Work (SOW), Statement of Objectives (SOO) or Performance Work Statement (PWS). NITAAC will assess your package at no cost and alert you to suggested changes within 12 business hours.
Assisted Acquisitions Support
If you're short on Contracting Officers for any reason, NITAAC can serve as your agency's Contracting Officer for a small 2% fee.
e-GOS Homepage
Compete and award orders with ease in e-GOS
The Electronic Government Ordering System (e-GOS) enables customers to comply with fair opportunity in a streamlined manner.
Image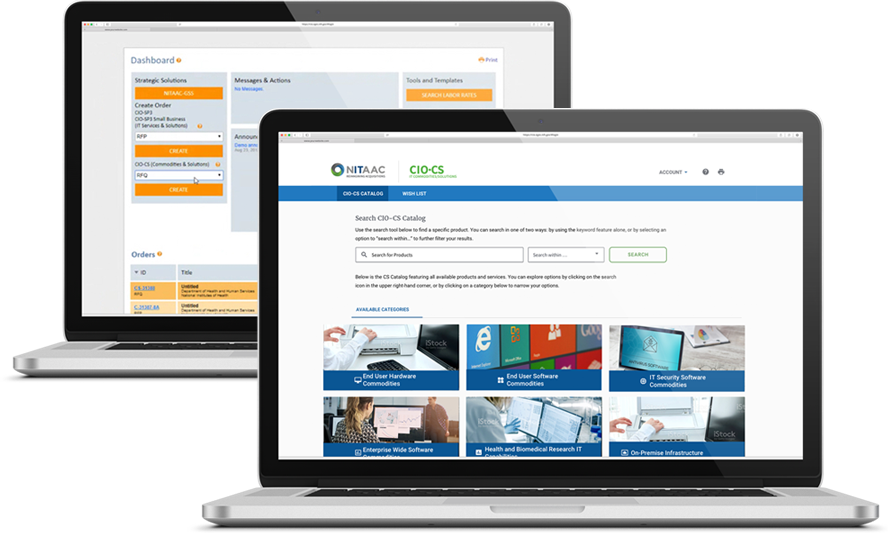 Events and Training
Events and training
NITAAC is always on the go and constantly seeking ways to educate agency partners on how to streamline their IT procurements.
Training Sign Up
Sign up for your free personalized training
We offer free training, both at the NIH and at customer sites, to educate agencies about the value they can achieve by using CIO-SP3, CIO-SP3 Small Business or CIO-CS. Attendees earn 2 Continuous Learning Points (CLPs).
Image